India uses 230 Volts, 50 Hz alternating current as the power source. Plugs and sockets have either grounded / earthed 3 Pin connections (Type D) or ungrounded 2 pin connections (Type C).
The two pin plug is also called the Europlug. It has two round 4 mm (0.157 in) pins. It can be inserted in either way into the socket. Hence there is no fixed live (hot) and neutral (cold) terminals.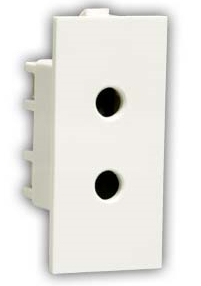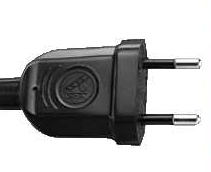 The three pin plug is rated at 6A / 250V. It has three round pins in a triangular pattern. The earth terminal is slightly larger than the live and neutral terminals.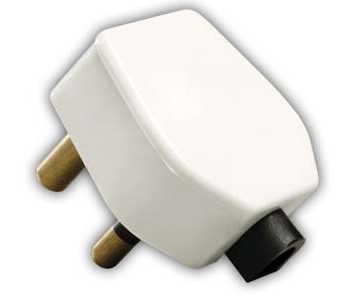 For Higher current, there is a 15 Amp version of the same 3 Pin plug, usually called the Power Plug or the M Plug. Live and neutral are 1 inch (25.4 mm) apart. Earth terminal is 1+1⁄8 in (28.58 mm) away from live and neutral terminals.  Typically, refrigerators, heaters and other high power devices are connected to this 15 Amp socket.
Will a standard European electric plug (2 round pins) fit into a power point in India?
Yes. To insert the 2 pin plug into a Type D 3 Pin socket which in some cases may be closed by default, push a pen into the Ground/Earth terminal. This opens up the protected 2 Pin terminals and you can insert the 2 Pin plug.
Will a standard Americal electric plug fit into a power point in India?
No. But any electrical store will sell you an adapter (picture below) for around 50 cents (Rs. 25 aprox) or less.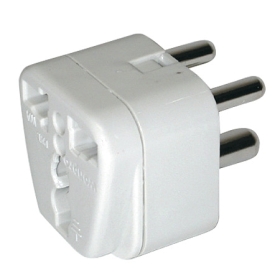 3 Pin Converter / Adapter